PL700 | Modular PLC CODESYS
PL700 is the Pixsys PLC CPU integrating Codesys Control SL v.3.5.16.20 runtime, programmable by CODESYS development environment.
CPU supports wide range of fieldbus systems:
CODESYS CANopen Manager / Device
CODESYS EtherCAT Master
CODESYS EtherNet/IP Scanner / Adapter
CODESYS J1939
CODESYS Modbus TCP Master / Slave
CODESYS Modbus Serial Master / Slave
Controller / periphery CODESYS PROFINET
Connectivity for Industry 4.0 is ensured by protocol OPC UA Server (full version for data exchange) and MQTT protocol (available as function block)
Runtime functionalities may be expanded purchasing additional packages from Codesys Store:
CODESYS BACnet SL
CODESYS KNX SL
CODESYS SoftMotion SL
CODESYS SoftMotion CNC+Robotics SL
Built-in CODESYS WebVisu enables activation of a "Virtual HMI" to display customized synoptics in a browser on a Pixsys Web panel or on a PC.
Acquisition of local I/Os is possible via integrated fieldbus PLE-DIN-BUS for the Pixsys modules PLE500 and via RS485/ModbusRTU or CANOpen for Pixsys MCM260X.
Preliminary step to program PL700 in Codesys is the installation of "CODESYS Control for PL700 3.5.16.20 package" available for download.
Dimensions
54 x 90 x 64 mm - 3 modules DIN43880
Material
Box: Nory V0; Front: self-extinguishing V0 silicone rubber
Sealing
Box and terminal blocks: IP20
Operating conditions
Temperature 0-45 °C, humidity 35..95 uR% (non-condensing)
ORDERING CODES

PL700-335-1AD

Power supply

12..24 V DC ±15% 50/60 Hz - galvanic isolation 2,5kV

Power consumption

3 Watt/VA

Processor

ARM Cortex A8 @ 1 GHz

Memory

eMMC 2 GB / RAM 512 MB DDR3

Clock

Real-Time clock, Back-up battery, CR2032 Lithium / Manganese Dioxide (Li/MnO2)

Serial communication

1x RS485 (1200..115200 Baud) galvanically isolated
1x RS232 (1200..115200 Baud) galvanically isolated

CAN

1x CAN (50K..1Mbit) galvanically isolated

Expansion Bus

PLE-DIN-BUS (real time) on DINrail - Max 24 modules PLE500 connectable

Ethernet

1x 10 / 100 Mbit/s

optional second Ethernet port 10 / 100 Mbit/s on USB (see accessories)

USB

1x USB 2.0
Operating system
Linux Debian
Communication protocols
Profinet Controller/Device - EtherCAT Master - EtherNet/IP Scanner/adapter - CAN Open Master/Salve - CAN J1939 - Modbus TCP Master/Slave, Modbus Serial Master/Slave
Soft PLC Logic programming
Codesys V. 3.5.16.20
Web Graphic interface programming
Codesys WebVisu
VPN
Pixsys Portal software (pre-installed in demo version) for remote desktop connection (VNC), Web Server, Client FTP, remote assistance.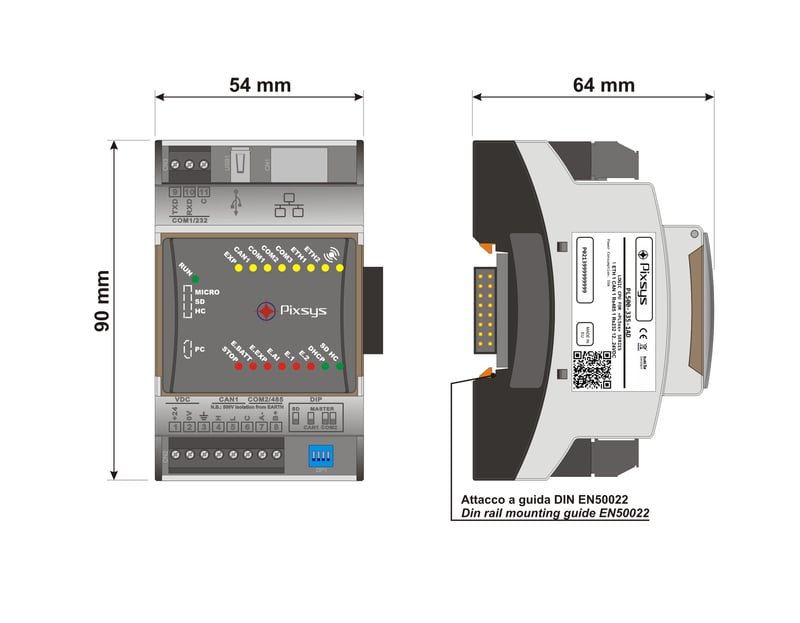 Discover other related products: