STR571 | Modbus Remote Display
Indicator STR571 is designed as a flexible and fully customizable interface for sensors, I/O modules, signal converters, and generally for instrumentation with Modbus-RTU output signal.

The device allows up to eight variables to be read/written to Modbus slave devices, with representation of variables in both numeric and textual formats; both description and mesuring unit for each variable can be freely set in alphanumeric characters, and if necessary, the data can also be rescaled in display. The number of variables displayed per page can be set from 1 to 4, with auto rescaling of font size and consequent number of pages.

In addition to the galvanically isolated Master serial port with Modbus RTU/Ascii protocol, a second Slave serial port makes querying from another Master possible.

STR571 interface is also quickly configurable via NFC with MyPixsys APP, without the need to power up the instrument or via multilingual text menus accessible by front keyboard.
Dimensions
96x48 (Front) x 48 mm (1/8Din)
Material
Box: polycarbonate V0. Front mask: silicone rubber
Sealing
Front panel: IP65, Box and terminal blocks: IP20
Operating conditions
Temperature 0-45 °C, humidity 35..95 RH%, max altitudine 2000m
ORDERING CODES

STR571-1ABC-T128R

Power supply

24..230 V AC / DC ±15% 50/60 Hz - galvanic isolation 2,5KV

Power consumption

6 Watt/Va

Display

2.42" monochrome OLED graphic display (yellow), 128 x 64

Potentiometer analogue input

min 1KΩ, 4096 points to set variable value

Digital inputs

3 Digital

2 digital PNP/NPN inputs programmable to enable outputs, reset alarms, configuration lock, increase/decrease value, front panel encoder for surfing and changing input data.

1 PNP input programmable to select values

Analogue outputs

-

Auxiliary Outputs

24VDC - 30mA max for external sensor power supply and potentiometer

Relais Outputs

2x 2 A - 250 V AC resistive load

Serial communication

2x RS485 (1200..115200 Baud) galvanically isolated

USB

1x micro USB for firmware programming
Communication protocols
1x Modbus RTU Master 1x Modbus RTU Slave
Variable management
Management of up to 8 Modbus RTU 16 or 32 bit variables
Multimaster
Connect up to 16 Modbus RTU master devices on the same serial line
Serial transmission
Retransmission of process values / setpoints / parameters on RS485 serial output
Alarm mode
Absolute / Threshold, Band with instantaneous / Delayed / Retentive / by digital input activation, Activation by serial line
Alarm function
2 Alarms ON-OFF with hysteresis
Display settings
1..4 variables per page, max. 12 variables
Process name and Setpoint display
Set as text value with max. 16 alphanumeric characters
Measure unit visualization
Selection of the process unit to be displayed
Multilingual menu
English/Italian/German/French/Spanish
Data protection
Lock of Command/Alarm Setpoints - Access to parameters by Password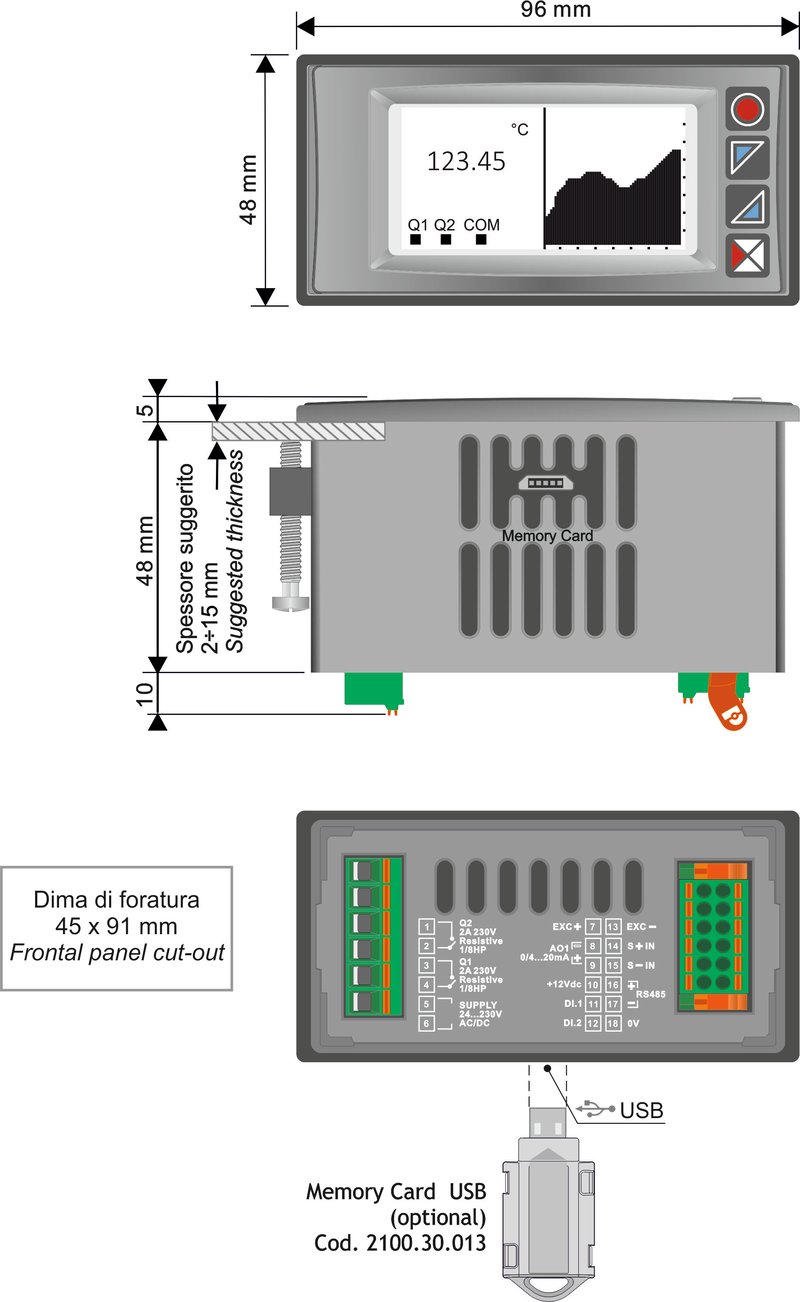 Discover other related products: