STR551 | Indicator -Panel meter 96x48
Indicator / panel meter STR551 is designed for process acquisition and retransmission via analogue output.

The monochrome OLED graphical display supports process trend displays with programmable sampling time and bar-graph representation with thresholds typically used for level, flow and dosage measurements.

Analogue input is configurable by parameter for a wide range of temperature sensors and process signals in mA and volts. Linearization is customizable up to a maximum of 16 points, useful on irregularly profiled tanks.

Process-related mathematical functions such as Totalizer and Sum are also implemented.

Connectivity is provided by standard RS485 with Modbus RTU/Slave protocol.

For maximum flexibility of use, there is also a choice of horizontal or vertical installation.

User can choose among different programming options: the intuitive interface with multi-language text menus, the MyPixsys App thanks to integrated NFC communication, or the LabSofView software.
Dimensions
96x48 (Front panel) x 48 mm (1/8Din)
Material
Box: polycarbonate V0. Front cover: silicone rubber
Sealing
Front panel: IP65, Box and terminal blocks: IP20
Operating conditions
Temperature 0..45 °C, humidity 35..95 RH%, max altitudine 2000m
ORDERING CODES

STR551-12ABC-T128R

Power supply

24..230 V AC / DC ±15% 50/60 Hz - galvanic isolation 2,5KV

Power consumption

8 Watt/Va

Display

2.42" monochrome (yellow) OLED graphic display, 128 x 64

Analogue inputs

1 x Ris. 16bit, programmable for thermocouples K, S, R, J, T, E, N, B (automatic compensation of the cold junction -25..85°C, Toll. @25°±0,2% F.S. ±1 digit F.S.), Thermoresistances PT100, PT500, PT1000, Ni100, Ni120, PTC 1K, NTC 10K (β
3435K e β3694K), NTC 2252 (β3976K) , process signals 0..1/5/10 V (50000 points), 0/4..20mA (40000 points), 0..60 mV (25000 points), Potentiometer 1..150 KΩ (50000 points).
Impedance:
0-10 V: Ri>110 KΩ
0-20 mA: Ri<5 Ω
0-40 mV: Ri>1 MΩ

Sampling time

Programmable up to 4,1 mS (frequency up to 242 Hz)

Digital input

2x PNP

Analogue outputs

1x 0..10V (60000 points)

1x 0/4..20mA (60000 points)

Digital Outputs

-

Auxiliary Output

12/24 VDC - 25mA max for sensor power supply

Relais Outputs

2x 2 A - 250 V AC resistive load

Serial communication

RS485 (1200..115200 Baud) galvanically isolated

USB

1x micro USB for programming via PC with LabSoftView
Alarms regulation
ON - OFF with hysteresis
Alarm mode
Absolute / Threshold, Band with instantaneous/delayed/retentive/by digital input activation, Sensor failure / Activation by serial line
Sum Function
Sum different process measurements over time By digital input or by keyboard
Totalizer Function
Visualisation of instant process value and total value since last reset
Latch-on function
Semi-automatic setting of limits/ calibration values for analogue inputs
Graphic function
Trend display with time base settable from 1sec to 3600sec total 4K memory words
Measure unit visualization
Selection of different measuring units
Multilingual menu
English/Italian/German/French/Spanish
Analogue retransmission
Retransmission of process values / setpoints to analogue outputs
Software parameter configuration
Memory Card, software LABSOFTVIEW, codici EASY-UP - Programming via APP (NFC) "MyPixsys" for Android and iOS devices
Software protections
Command setpoints / alarms - Password for parameter access
Communication protocols
Modbus RTU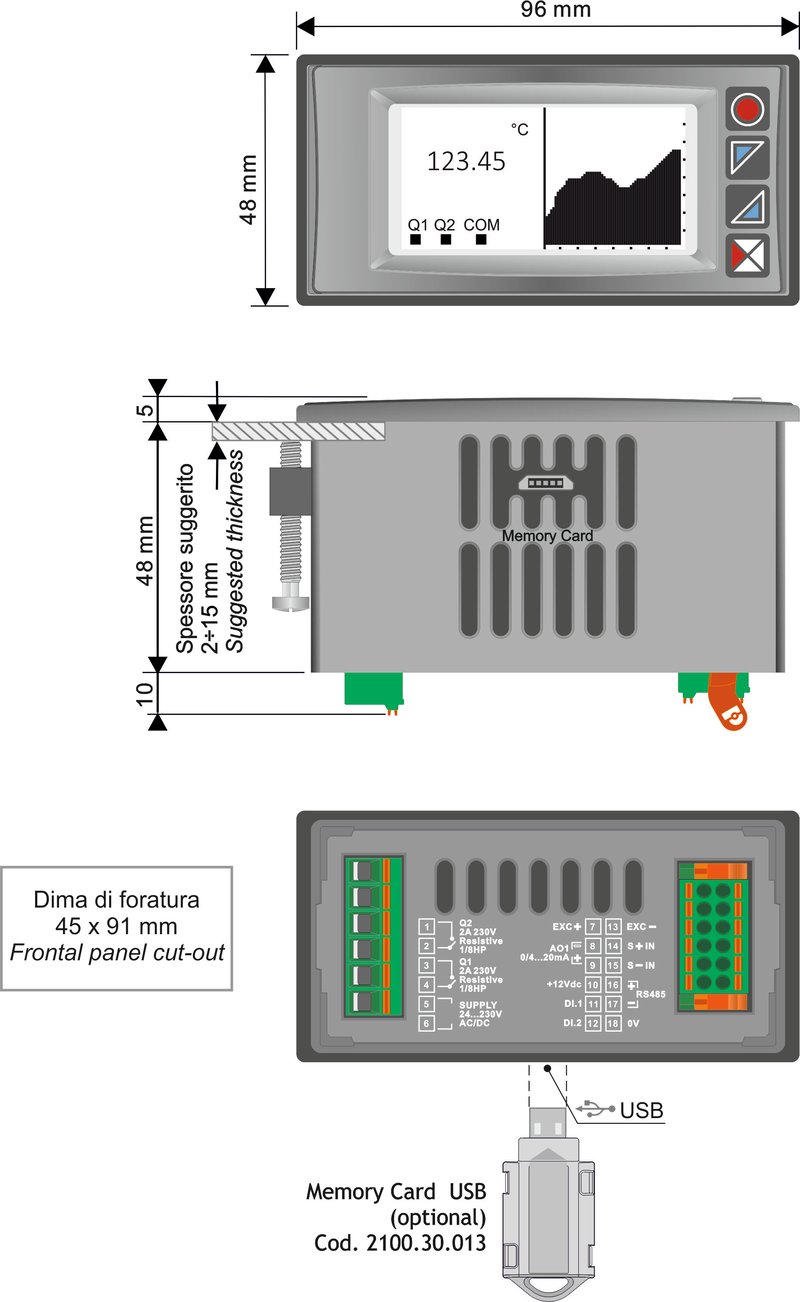 Scopri altri prodotti correlati: